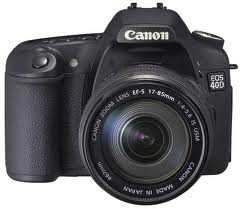 There are so many models of digital camera out in the market and it can be a mind-numbing experience to choose the right one. Before making an impulsive purchase it is required to do the homework first and then go for the best deal.
There are different price ranges of digital cameras in the market. Most of the decent digital cameras are priced between Rs. 7, 000 to Rs. 15,000. The prices depend on various brands. There are various specifications and features a buyer would look for in a digital camera like optical zoom(or digital zoom), resolution (mega-pixels), F number, focal range, focus length, display size (LCD), battery life, support capacity, compression ratios, aperture, inbuild memory or external memory, still/video capacity, shutter speeds, auto/manual/smart modes, image formats, aperture, etc. Some of the popular brands are Canon, Kodak, Nikon and Sony. They make a huge impact on the price and the buyer also.
There are high-end digital cameras with exhaustive features for the professional purpose which are exorbitantly priced in the range of Rs 28,000 to above Rs. 1 lakh. They are usually DSLR type cameras.
Here are top five digital cameras that cost less than Rs 20,000:
Samsung PL150 – TL210: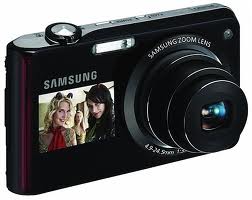 This is a 12 megapixel shoot camera and has a second 1.5 inch LCD screen on the front for taking self-portrait pictures and videos. It comes with features like 3 inch rear LCD screen, 720p high-definition video recording, 5x,27-135mm lens and a clever smart auto mode that comes with 16 different scene settings. This model is available in black with blue or red highlights. It is priced around Rs 10,810.
Fujifilm FinePix F80EXR:
This is one of the best model that features advanced functionality at a good price. This is a new model replaced by the previous F70EXR model and has a new 12 megapixel and can capture highest resolution. It has 1/2 inch super CCD EXR sensor with three different selectable modes. It also comes with 3 inch LCD screen, face detection technology, 10x zoom lens that has a CCDshift dual image stabilization system, HD movie capture at 720p, pro focus mode and pro low light modes. The prices are approximately Rs 10,000.
Pentax Optio H90: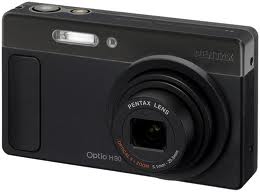 This is a great budget and compact camera. An entry level camera that also comes with 12.1 mega pixel image sensor, 2.7 inch LCD screen, face detection system and 720p HD movie recording. It is available in three different colour schemes and is compatible with wi-fi wireless memory cards. It costs approximately Rs 10,000.
Canon Digital IXUS 65: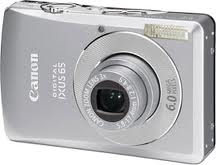 Canon is the market leader out there in this niche. This model is a cute and compact one with 6 megapixel, quick with 3 inch LCD screen. It features 3x optical zoom, 5x digital zoom, jpeg format, CCD sensor, AVI video format and is priced at Rs 16,500.
Olympus SP-600UZ: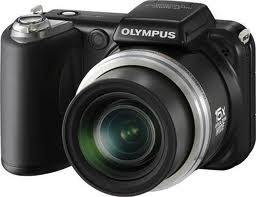 This might not be compact but is a mega-zoom camera with 15x optical zoom and 5x digital zoom. It comes with face detection technology, AF tracking, 1GB internal memory, 12.2 megapixels, H.263/MPEG-4 AVC recording format. It is priced at 13,949.