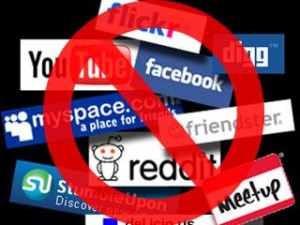 Many people face problems when various networking sites like Orkut, Facebook, Myspace, Hi5, etc are blocked in their workplace or college. This causes great inconvenience when there is no access to these sites.
1. IP Address instead of Domain Name
Many blocked sites are stored as a URL list e.g. www.yahoo.com, www.download.com. So you can try typing IP instead of URL, this works many times. One can run the ping domain.com command in command prompt and mac users can use terminal. You will be able to return the IP address.
2. Sometimes the longer URLs are banned. You can convert them into shorter URL, this might work. There are many URL services like MooURL, SnipURL.
3. This is on of the best way to view restricted websites. You can just Google "proxy server" to view the site. It works because you use other service as you wont be requesting the banned IP. In case you are using a proxy server and blocked by a firewall access ban then switch to encrypted browsing proxy service.
4. Search Engine's cached pages
Type the page URL in search engine. Go to "Cache" or "Cached pages from this site". The pages are on the server of the search engine, at the search engine's IP. This is only to check a page or two. You can enter "cache:a3webtech.com" for viewing the front page.
5. Hunt for WayBack Machine, Internet Archive. This contains the online cache of stored pages from the history. There is a 6-month time lag for the pages to appear in this, so get one soon.
6. Translation service
This is a kind of Google proxy service. Just go to Google translate and type the desired URL. It does not matter which language you choose. There are other translation services like AltaVista BabelFish.
7. Another way to access the site is to retrieve the web pages via email. Web2Mail is a free service and you can use this service to receive the website URL right in the inbox.
8. Encrypted VPN service
This is one of the best and free service that works all the time. You need to go to "www.your-freedom.net". This service can get through any firewall. There is a paid upgraded version for this. Another encrypted VPN service is Steganos Anonym with less features.
9. Remote Access software
You can set up a remote access software on the home and office PC. This way you can have an access to any site you want because it will your own PC doing it and not the office one. Free RAS are Ultra VNC SC, UltraVNC and LogMeIn. For this tip to work your home PC should be running and you should be able to install remote access software.