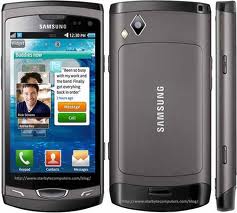 Samsung Wave 2 S8530 Review:
Samsung Wave II is the latest version of the Samsung Wave mobile phone. This phone has 1GHz processor and has a super clear LCD display screen with less light reflection than other LCDs. In this used DNIE (digital natural image engine) is usually embedded in high-end television products output. Both the new version and the predecessor look the same.
It is equipped with three buttons, Button Call, End and Menu. On the left side of the phone there is gate micro USB and volume control buttons. On the right side there is camera shutter and screen lock button. On the top of the phone external speakers and audio 3.5 mm can be found.
The Bada OS version used in the phone is the latest Bada OS version, Bada OS version 1.2. This OS offers application management and various multimedia features. With this OS one can open simultaneous applications in the phone. However, it is not as good as Google Android OS or Apple iOS.
It has got all the social networking applications like Twitter, Facebook, instant messenger services and YouTube. Twitter and Facebook is directly connected with phone contacts. The web browser used in Samsung Wave 2 S8530 is Dolfin v2.2 web browser that supports RSS reader, HTML, WAP, flash content and multi-window. It supports push email function. Email synchronization is also available to save the battery.
Samsung Wave 2 S8530 Features:
– 3.7 inches clear LCD Touchscreen display with 16 million colors
– Samsung Bada OS v1.2 with applications
– 5 megapixel camera with autofocus, LED flash, face, smile and blink detection, Geo-tagging
– Video Recording of 720p@30fps (MP4)
– ARM Cortex A8 based 1GHz CPU
– Runs on 1GHz processor with amazing 3D gaming experience Connectivity:
– GPRS, Bluetooth 3.0 with A2DP, WIFI 802.11 b/g/n, data cable support USB 2.0
Samsung Wave 2 S8530 Specifications:
Memory: 2GB internal and expandable up to 32GB
Network:
– GSM Bands: 850/900/1800/1900 MHz
– HDSPA Bands: 900/2100 MHz
Battery: 13 hours 20 minutes task time and 500 hours stand by time
Application Support:
– Alarm, Calculator, Calendar, Samsung applications, JAVA enabled, Widgets Support, Supports Motion Sensor, To-Do-List, Widgets Support
Some other nifty features:
– Multi Touch method
– Smart Unlock
– Accelerometer sensor
– Handwriting Recognition
– Scratch Resistant oleophobic surface
– TouchWiz UI 3.0
Niggle:
– Still smilier android
– The application has not been as much as IOS and Android
Samsung Wave 2 S8530 Review Summary:
It is a great smartphone with premium OS, thinner design and clearer display. This Samsung BADA version1.2 is reliable and complete package with al the embedded features. However, it might not be a big deal for people who have already tasted Android phone and the market could also be the reason. But apparently it is a good one and there is no harm in checking out the new OS.
Samsung Wave 2 S8530 Live Demo Videos:
Samsung Wave 2 S8530 Price in India:
– The price of Samsung Wave II S8530 phone is Rs 16,399 in India.
Samsung Wave 2 S8530 Pictures: