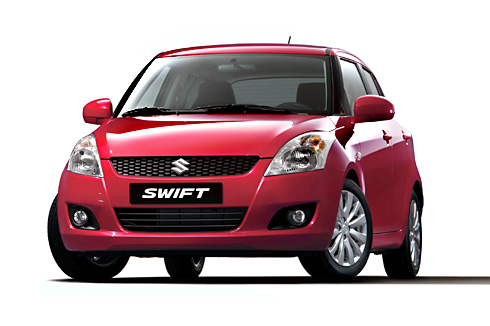 If we are to put together a list of unforgettable cars of the coming decade, Suzuki's new popular city car, the 2011 Suzuki Swift would be on it. The new Swift will be adorned with a new 1.2-liter petrol engine with Dual VVT that promises to deliver 94 HP at 6,000rpm and 118Nm at 4,800rpm.
New Swift 2011 – Review:
With aggressive looks and winning performance, we are going to be smitten with all-new lighter, lengthier and roomier 2011 New Swift that went on sale in the UK in September, 2010. The new car has great performance, exceptional fuel economy ratings, impressive features, jazzy exterior styling and improved CO2 emissions and economy.
It will have new petrol engine but diesel engine will be same that powered the 2010 Swift. Though the diesel engine has been improved for better fuel efficiency. Our first chance to move miles on the winding roads comes on 17th August – confirmed.

Maruti Suzuki New Swift Features:
– More body length (90 mm) with a 50mm increase in wheelbase
– New design for wheel covers/16″ alloy wheels for top variants
– Superior and better looking head lamps
– Dash integrated music system at center console
– Push button start
– Xenon headlights
– Sunroof (Optional)
– Round shaped fog lights
– Steering wheel with music/telephone controls
– Innovative front and rear bumpers and front grille
– Electric operated outside rear view mirrors
– Mechanical climate control system
– New instrument cluster finished in silver and black
– USB, Aux port
– Bluetooth connectivity
– Steering mounted audio controls
– Turn indicators integrated into outside rear-view mirrors

Maruti Suzuki New Swift 2011 Pricing:
Fairly affordable, the new Maruti Swift will be available more or less in the region of 5-7 lakh rupees. It will be available in at least nine variants. The colour availability would be White, Black, Silver, Glistening Grey (new), Blazing Red (new) and Torque Blue (new). The engineering has ensured a substantial reduction in the overall weight of the car.
It has replaced the metal fuel tank with a plastic tank which will improve its fuel efficiency by a little over 13 per cent. Plastic fuel tanks make it 25-35 per cent lighter than the conventional metal tanks and also they are durable, corrosion-free, non-explosive and easily recyclable According to the Automotive Research Association of India, the petrol variant will return a mileage of around 20 km a liter, as compared to 17.9 km per liter.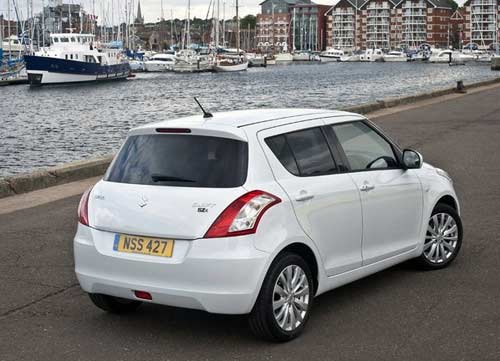 New Swift 2011 and Old Model Comparison:
If we try to draw a comparison between Maruti Suzuki Swift 2011 & existing Maruti Suzuki Swift, we can say that the new one comes with the K12 Suzuki K series engine which is a 1200cc K series engine which is  same as in the existing generation of Maruti Swift. The transmission may or may not be changed. The difference between the new Swift 2011 and the existing Swift is about 155mm. the new one is taller by 155mm.  The increased length will add to more space inside and make its customers happier than before.