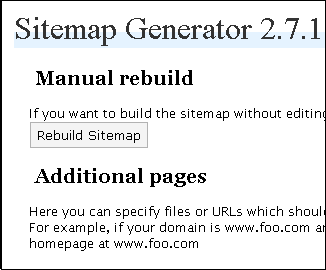 If your blog is hosted on self hosted wordpress platform it's very simple to create a sitemap for your blog. Sitemap is very important for efficient crawling of your web pages and aslo for saving unnecessary bandwidth usage.
Google sitemap generator for wordpress plugin let you create sitemap in specified path. This sitemap is compatible with the common Google, Yahoo sitemap protocol which they now agree to have a common protocol. The plugin installation and configuration is pretty simple.
Before installing this plugin make sure that your blog directory is writable to create sitemap.xml file. Keep the default options as it is and click on Build sitemap button. You can change default options like the path of sitemap.xml file, whether to include pages,categories, archives in sitemap.xml. Activating this plugin will create sitemap.xml in path you specified.
For example see the sitemap file I generated for this blog at https://www.etechbuzz.com/sitemap.xml
When you finish creating the sitemap for your blog submit this sitemap to Google sitemap and Yahoo search engines. While submitting to Google sitemap make sure that path of your sitemap is with www or without www. If you created sitemap contains all the urls with www then specify www while providing sitemap path to Google.
This is very efficient way to get indexed your blog pages in Google or Yahoo! search quickly.