Making animated images can be really hard sometimes. There are lot of easy online tools and website for creating animated GIF files that can be used on your social network profiles or instant messengers and websites.
5 Ways to Make Animated GIF Files Online for Free
1. Picasion

Create GIF online with "Picasion": http://www.picasion.com
It is a free online and web based gif animator. It is urgent, quick and you don't need to install any interface or software. In just three simple steps your work is done. Voila!

– Uploading: With this application you can upload three pictures at a time.
Pics can be uploaded from webcam, URL or computer.
– Get the size of the image
– Lastly determine the speed of the frames and hit the "create animation tab."
2. Beneton Movie GIF

Download link: http://www.benetonsoftware.com
With Beneton Movie GIF one can create creative and catchy animated images for projects and greeting cards. It has great features and around 48 file formats are supported like GIF, JPG, BMP, AVI and PNG.
– Drag and drop effect frames for editing
– Individual frame properties are also supported
– Built in image editor with tools like shapes, airbrush, fill, alpha brush, text,
selection, pencil.
– Preview options
– 20 various effects for animations in two categories: animated and normal
3. Make A GIF

Make GIF Online with "Make A GIF": http://www.makeagif.com
With this tool multiple images can be added at the same time. Maximum number is 12 and the image should not be more than IMB in size. One minor niggle is that there is no one click download button and one has to manually save it from the browser.
4. Imator

Make GIF files online with Imator: http://imator.com
A gif creator, banner maker, banner creation tool, banner generator, definitely one of the easiest tool that allows unlimited number of uploading and converting them into GIFs. You can upload images from PC or URL and create interesting and creative banners and avatars. There is a simple drag and drop interface which is very easy to work with and moreover employ frames can be added.
5. GIFUp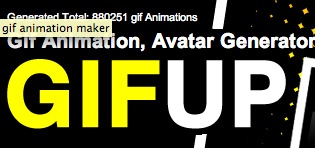 Create GIF online: http://www.gifup.com
With GIFUp you can create good and interesting GIF animations for websites and presentations. It is completely web based and does not require downloading any application. Pics can be uploaded form computer, Flickr or webcam and the frames can be dragged or dropped accordingly and the size and speed adjusted.