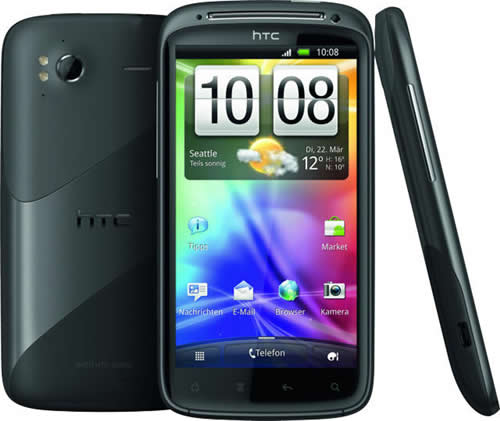 HTC recently released a new HTC Sensation or Sensation 4G smartphone which is also known as HTC Pyramid and is the first HTC's dual-core smartphone. It is called as the mobile phone with a sense and is oriented around lot of media features so that one can enjoy real-life experience with graphics.
HTC Sensation Smartphone Features:

HTC Sensation comes with 1.2 GHz dual core processor with Qualcomm MSM 8260 Snapdragon Chipset and Android 2.3 Gingerbread operating system. Android 2.3 operating system is the best compared to all the other operating systems with advanced functionality. Different types of applications can be downloaded from the online store. The handset is only 6mm taller and thinner than the 4 inch HTC Incredible S. It is a rigid phone made in the aluminum frame and shaped from a single metal slab.
Features like HIFI audio technology and the qHd display screen make it stand out from other phones giving a better multimedia experience. It is designed in a marvelous way and the countered glass edging give it a unique and sleek look.
The 4.3 inch touch screen is equipped with qHD display technology and 540*960 pixels resolution. Gorilla glass display prevents damage to screen. Crystal clear video is delivered with the help of Hi-Fi sound technology. Various formats supported are amr, .aac, .ogg, .mid, .mp3., .wma, and .M4a. Audio is recorded in .amr stereo format.
HTC Sensation Smartphone Specifications:
Size:126.1mm x 65.4mm x 11.3mm 4.96″ x 2.57″ x 0.44″
Weight:148 grams (5.22 ounces) with battery
Display:4.3-inch touch screen
Screen:109 mm (4.3″) with qHD (540 X 960) resolution
It boasts of 8 megapixel camera up to 3264*2448 pixels resolution with dual LED flash, auto-focus and 1.2 megapixel front facing camera 4GB internal storage, 768 MB RAM. Memory is also expandable with microSD card slot. HD videos can be recorded 1080p at 30 frames per second. One great feature of the camera is that as the picture is clicked the image is captured and processing is not needed. Responsiveness is impressive although autofocus is not that fats and might slow down in low light conditions. Connectivity options include WIFI IEEE 802.11 b/g/n, Bluetooth, 3G, EDGE and GPRS networks.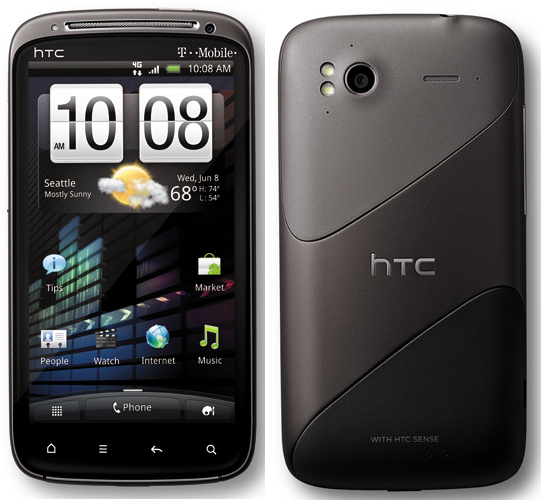 It sports built-in GPS with locations. Maps can be explored with zero dead spots, zero data roaming fees and zero wait. Sensors included are G-Sensor, digital compass, ambient light sensor, gyro-sensor and proximity sensor. The rechargeable battery delivers talk time of up to 8 hours 20 min in 2G network and up to 6 hours 40 min in 3G network. Standby Time is up to 350 h (2G) and up to 400 h (3G). There are Social networking applications like Twitter and Facebook and photos/videos can be shared on Flickr, Twitter, YouTube and Facebook.
Also, the latest version of HTC of Sense 3.0 is not that impressive. It is mostly superficial. The overhauled lock screen is the only biggest improvement in the latest Sense. Four customizable applications are offered that can be dragged into a activation ring and then the phone can be unlocked straight into application.
HTC Sensation Smartphone Price In India:
HTC Sensation is vailable for price of Rs 30,000 in India.
HTC Sensation Smartphone Price In USA:
In USA this this phone will cost anywhere around USD 799.

HTC Sensation Smartphone Verdict:
HTC Sensation is an excellent phone with outstanding features at a better price. It certainly is an accomplished model. Although it might not be on the same level of UI responsiveness compared to the dual-core speed model like the Samsung Galaxy S II.