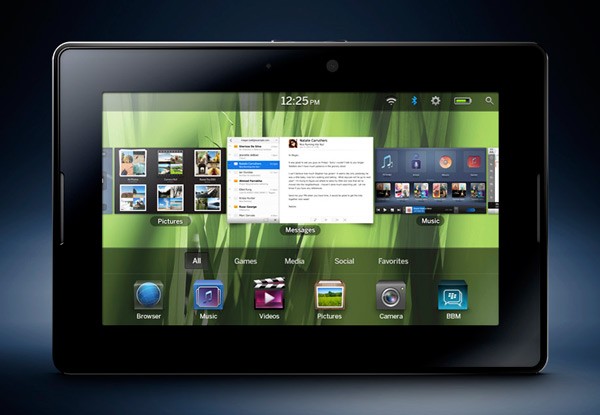 The Blackberry maker, Research in Motion(RIM) made its way into the tablet PC market with the launch of "Blackberry Playbook" and is going to give one on one competition to Samsung's Galaxy Tab and Apple's iPad. The tablet war is rising up in India. This first grade tablet supports multitasking function that allows easy switching between the applications.
Blackberry Playbook tablet PC boasts of a 7 inch, WSVGA, capacitive crystal clear display with high resolution, gesture support and multi-touch. It is running on 1 GHz dual-core processor powered by new operating system called Blackberry Tablet OS based on powerful QNX technology which is user friendly with compatibility for symmetric multiprocessing. ONX Software Systems is a RIM unit that is a software maker with which even cars and nuclear reactors are run.
This powerful device weighs 400 g and is equipped with 5 megapixel camera on the back and 3 megapixel on the front along with 2 megapixel video chat camera, Skype and free video calling software. Sensors included are proximity sensor, accelerometer, gyroscope, digital compass and ambient light sensors.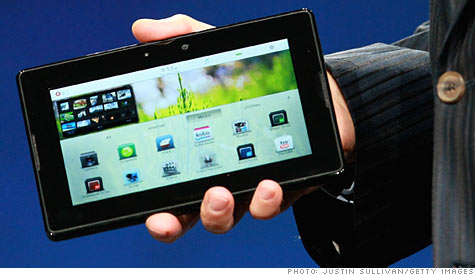 It also supports HSPA+ connectivity for 21 Mbps download speeds, adobe flash payer 10.1, HDMI out, WIFI 802.11 a/b/g/n, Bluetooth 2.1 +EDR, and supported formats are MP3, WMA, DivX, WMV, MPEG and AAC. It is available in black color. The internal memory is 1 GB DDR2 RAM and of course there is micro SD card slot expandable up to 64 GB memory.
The most noteworthy feature is the ability of the blackberry Playbook to even run Android applications. One can download android applications and Blackberry java applications from Blackberry application world and the run-time environment is provided for this. It is compatible with Blackberry Enterprise server, adobe air, java, openGL and even future application for BB OS 6. 3G access via Blackberry phone plan and data access to the Blackberry phone applications powered by Push technology like calendar, tasks, Blackberry Messenger, Blackberry security and documents is also available.
Blackberry Playbook tablet PC Price:
Blackberry Playbook is priced at $499, $599 and $699 for the 16 GB, 32 GB and 64 GB versions, globally.
Blackberry Playbook tablet PC Price in India
16 GB version: Rs. 28,000
32 GB version: Rs. 33,000
64 GB version: Rs. 38,000
Blackberry Playbook tablet PC Pros:
What we like?
– Dual GD camera
– Ultra thin and portable
– Support flash
– Can be easily synchronized with Blackberry Smartphone
– Responsive operating system
– Very lightweight
Blackberry Playbook tablet PC Cons:
What we didn't like?
– WIFI only device
– Currently not many application are available and software package is incomplete
– Virtual keyboard not that good
– Power button difficult to locate and use
Review Summary
Blackberry Playbook tablet PC is sleek and powerful. It can be called as Businessman's tablet. It is compact but currently software package is not complete. But if you are using a Blackberry Smartphone that minor deficiencies can be resolved .