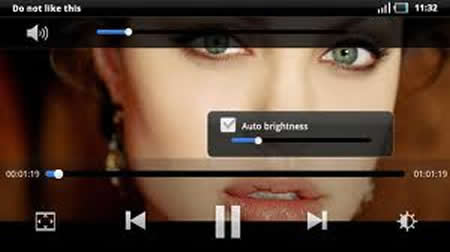 There are several video players for iPhone 4 when it comes to watching TV sitcoms or movies in different formats. Here are some of the best video players for iPhone 4.
Video Players for iPhone 4
1) AVPlayer
This is an easy to use video player where no conversion of files is required. AVPlayer can be used to play several files in various formats including DIVX, XVID, AVI, ASF, WMV, MKV and H.264. It is also compatible with various subtitles like SRT, SMT and TXT. Another nifty feature of this application is that playback can be controlled with swiping the screen. For example swipe the screen to the left and you can move back 20 seconds to re-watch a scene.
The AVPlayer can be bought on iTunes application store for $2.99.
2) Movie Player
Apart from supporting formats like AVI, MOV, FLV, DIVX, MP4 and MPEG many other formats can be played with Movie player for iPhone 4. This application is also capable of playing videos from web browser, email attachments and many other applications. One can arrange the TV sitcoms and favorite movies which can be played in that order.
Movie Player can be downloaded from the iTunes application store for $2.99.
3) VLC Media Player
VLC Player which has been every one's favorite and open source multimedia player is now available for iPod touch and iPhone 4 as well in iTune app store by Apple. It is also compatible with iPhone 3GS and is completely free. This video player seems to be better than the previous versions and there is a deletion feature that enables erasing the files within the application rather than with the help of iTunes.
4) CineXPlayer
This application is designed for those looking for a video player for XVID files. One can watch various videos on iPhone and even make use of the TV output feature for watching on the television. CineXPlayer also features loop movie function and auto resume ability.
CineXPlayer application can be downloaded from the iTunes application store and is priced at $1.99.
5) BUZZ Player
BUZZ Video Player is a multimedia player that supports various video and audio codecs, streaming protocols and file formats. It can support 75 types of media and some of them are MOV, DIVX, 3GP, MP4, M4V, VCD, WMV, RMVB, FLV, MPG, MPEG, DV3, ASF, MP3, AAC, ALAC, WMA, etc. The sound and video quality is amazing. Most of the subtitle files are supported by BUZZ player and the application can also output in HD for quick time media files.
6) OPlayer
The Oplayer application is also compatible with various formats like AVI, XVID, MP4, MKV and WMV. This video player also supports audio files like RM, WMA, MP3 and AAC. Samba clients and FTP are also supported. Videos can be streamed through 3G or WIFI network. Create playlist and adjust the settings for the non stop entertainment.
OPlayer is priced at $2.99 and can be downloaded from iTune application store.