1. Grand Theft Auto IV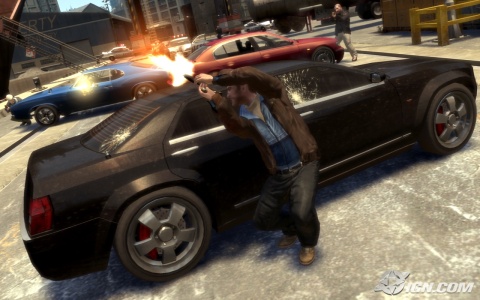 This is one of the best Grand Theft Auto game with a single player story mode, though multiplayer modes are also available with online support for maximum 16 players. It is well crafted with character-driven story, comedy acts, character dialogue and much improved controls compared to the earlier versions. However, one minor quibble can be some visual quirks.
2. Fight Night Champion
Fight Night Champion comes with an amazing gameplay. It provides the gamers inside world of boxing. There is a champion mode and the story is about the contender aiming for the title.
3. Just Dance 2
Just Dance 2 is a top wii game. The successor continues with numerous dance moves and tracks. It is a great family game with unlimited entertainment and fun. More than 45 tracks are available in this version and songs can also be downloaded. There are four new dance modes namely party mode, duet mode, dance battle mode and just sweat mode. It is surely going to get your foot tapping.
4. Shadows of the Damned
Shadows of the Damned comes with exciting gameplay with amazing sound design and delivers a great experience. There are challenging boss fights and displays clever use of darkness mechanisms. It is a well-crafted game where the gameplay activities are fun.
5. Mortal Kombat
Mortal Kombat is a hardcore fighting game bursting with content. The in-depth story with lot of challenges and Challenge Tower minigames will get you hooked on to the screen as quick reflexes are required to dodge the attacks by the opponents. It is an engrossing and gory game with 2D fighting and over the top attacks. The story starts from where Mortal Kombat: Armageddon finishes, with Shao Kahn, the devil emperor attacking Thunder God Raiden.
6. Super Mario Bros Wii
This is for the Nintendo game players and it comes with the feel of the original super mario bros. The gameplay is exciting with more features, graphics and interaction. There are lot of puzzles and challenges that will get you hooked on to the game.
Amazon Price: $43.99
7. Portal 2 – Valve Studios
The predecessor of this game was released in 2007. The new version comes with multiplayer options with exciting puzzle elements like special gels along with a voice cast that consists of Stephen Merchant.
8. Dragon Age II – Bioware
Dragon Age origins from Bioware, the makers of knights of the old republic and mass effect. It was a huge success.
9. L.A. Noire
L.A. Noire takes you to the authentic 1940s style and environment. It will take the gamers into a journey of the City of Angels loaded with interrogation and investigation mechanics. There are real LA locations with loads of action sequences and shoot-outs.
10. Virtua Tennis 4
This game is out on Xbox 369, Wii and PS3. It comes with an enhanced online mode with support for social clubhouse.