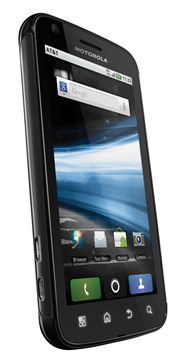 Motorola Atrix 4G Review:
Motorola Atrix, Android powered touch screen smartphone is now available at Orange UK. It will be available nationwide in Orange stores and even online.
Motorola Atrix runs on 1 GHz dual core processor with 1GB RAM. There is a large 4-inch HD screen with 540*960 resolution with 16GB internal storage and expandable memory up to 48GB via microSD slot. It features Motorola's WebTop application running on Mozilla Firefox 3.6 browser and even supports Adobe Flash Player for checking out all the animations, videos and high-quality graphics. One can open web pages twice as fast as other smartphones and media content can be created and edited on the go. There is a biometric fingerprint reader for unlocking which is a unique feature from all the other smartphones.
The display of Atrix has been compared to the retina display of Apple iPhone 4, but Atrix is larger in size so that pixel density is not that great and is less smooth. The Atrix runs on Android 2.2 and not the latest Android 2.3 (Gingerbread). The skin of this Motorola Atrix is MotoBlur and apparently this is not the most popular Android skin.
Motorola ATRIX 4G Specifications:
Phone Modes: WCDMA 850/1900/2100, GSM 850/900/1900/1800 HSPA+
Phone Weight: 135g
OS: Android 2.2
Processor: Dual core processor with 1GHz each
Battery life: 1930.00 mAh
Display:  4.0" qHD (960 x 540)
Camera: 5 MP AF
Storage: 16GB on board – supports up to 32GB microSD (So Total 48GB support)
Memory: 1GB LP DDR2 RAM
TWO COMPANION DOCKS:
The Motorola Atrix HD Multimedia Dock
– Three USB ports
– HDMI port that enables connections to mouse, speakers and keyboard
– HDMI compatible monitor that can also be connected to HDMI compatible TV and home theatre system
The Motorola Atrix Lapdock
– Incredible thin design, 11.6 inch screen
– 8 hours of battery life
– Weight: 1.1 kilograms
– Stereo speakers and full keyboard
You just need to dock Motorola Atrix into the back for mobility at workplace or anywhere as a matter of fact. It turns the device into a netback.
Motorola Atrix will also be available at T-Mobile also from next month. So, it will be branded under the partnership network of T-Mobile/Orange. Currently Orange is offering Motorola Atrix free on a 24 month contract, 35 pounds per months. This includes 750 MB data allowance, 600 minutes, unlimited texts, unlimited WIFI, 50 MMS per month.
Motorola Atrix 4G Price in UK:
There is a "Work and Play Kit" for orange customers. It includes mouse, keyboard, remote control and HD Multimedia dock. It will cost around 49.99 pounds per month for the customers who buy Motorola Atrix whereas the standard retail price is 129.99 pounds. The HD Multimedia Dock contains headphone socket, mini HDMI output and three USB ports. Motorola LapDock priced at 299.99 pounds is also available at a low price for Orange customers.
Motorola Atrix Review Summary:
The device is solid and well-built with a sleek design. The fingerprint reader at the top makes Atrix stand out from all the other devices. This also doubles as the power button. The main setback with Atrix is that currently it runs on Android 2.2 especially when latest Android Gingerbread has been out in the market for quite some time. However, it is the future of mobile computing.