What is affiliate marketing?
Affiliate marketing in simple words – You promote other company products and services and in return you get commission per sale or per lead.
It's not necessary to promote only per sale commission offers. There are thousands of offers which converts (means you get commission) by filling simple online forms and signing up to advertiser services. If you are new at affiliate marketing, I suggest you start with lead generation offers initially. When you will get good idea of this affiliate marketing business you can start promoting offers which converts on sale.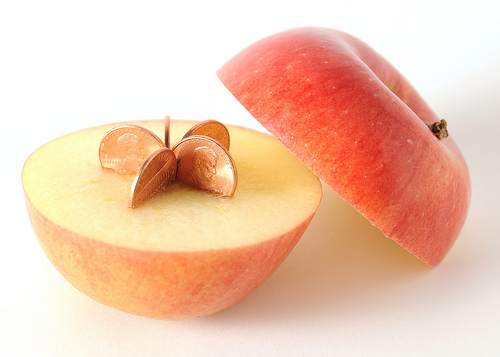 Image credit: http://www.flickr.com/photos/teamjenkins/
Affiliate networks:
There are some companies which act as middle man between you (affiliates) and advertisers. It is not possible for site owners (publishers) to approach big companies for advertisements.
It is possible to make huge money online using affiliate programs. Selecting a best affiliate network is the crucial first step to become a six figure affiliate! There are hundreds of affiliate networks offering thousands of advertising programs. Commission amount various per affiliate network, even for same advertiser offer on multiple affiliate networks, you will find different commission payouts. If you are a newbie, you shouldn't risk signing to a newer affiliate network as there are many affiliate networks which don't pay to their affiliates for all conversions. So select an established affiliate network which will pay you on time and will not scrub your valid offer leads.
You need to first create your account on at least 2 – 3 good affiliate networks. Getting approved to affiliate network is not easy. As these affiliate networks daily get thousands of applications as this affiliate marketing business is having huge potential to make money online. But very few affiliates become successful in this business because many affiliates give up very soon. So these affiliate networks scrutinize application very strictly to verify if applicant is really capable of promoting affiliate offers.
To start, apply to below two best CPA affiliate networks:
Remember to provide as much details as you can while filling the affiliate network application forms. Once you are approved by these affiliate networks, next step is to select best offers to promote. If you have any established website or blog then it's comparatively easy task for you to select best offers to promote. You can select the offers related to your website niche, which will convert best with your site audience.
If you don't have any established website, don't worry. There are so many top affiliates who don't have website still they are making six figure monthly income from affiliate marketing. You can promote these affiliate offers by online PPC (pay per click) or PPV (pay per view) advertising with quality advertising networks like Google and Yahoo.
There are some tricks that you need to apply so that you can survive in this competitive affiliate market. You need to acquire these skills as early as possible. And don't worry I am going to give you these tips and tricks without hiding anything (Yes, there are many affiliates/publishers who write about affiliate marketing but don't explain in detail how they make money).
Initially I struggled a lot in this affiliate marketing business and got rejected from many affiliate networks because I was not from United States (But now I am part of almost all big affiliate networks). Also I had not written anything online about affiliate marketing before this. But from now I will be explaining each and every simple step to you, so that you too can be a part of this online earning and money making game.
Stay tuned to get tips and tricks to make money online in 2010!
If you are not subscribed to eTechBuzz newsletter till now, do it right now (by Email) so that you will not miss a single money making tip!