The key of making money on Facebook lies in the fact how well you know the website and how much traffic can you generate on it. Few of you might be wondering that Facebook is not to make money. It is a simple interactive social media site where friends meet and discuss their opinions and issues. Yes, you are right. If people are there to discuss their opinion, why not give them a topic to air their views? Why not hook them there for their own reason?
How to Make Money with Facebook?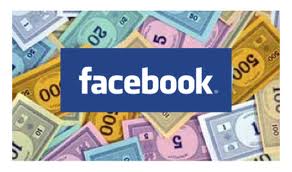 All you need to do is to create a page on the Facebook dedicated to your business or product or whatever and then hook people who are interested in your subject. For instance, if you want to publicize a particular school, create an account dedicated to that and give all the necessary information related to school there. Also, make the members of the school join that school account/page with their personal accounts. Now, to make people hook there and click on it, you can spin the questions which are important for the school. For an instance, how can we increase the facilities of the school in the minimum budget? Or which facility should be given priority? Or do we give much more importance to studies than required?
The questions of these kinds can help the members of the community air their opinions. It can not only solve some of your major problems by the suggestions of the people and members but can also pull large number of people to your site by the fan clicks and suggestions.
Once you are done with this part, the next step in making money on Facebook is to promote the virtual community. You can do that with the help of a large number of online media, which includes other social networking sites like Twitter and Orkut. At first, it may sound absurd and crazy but it is happening and an increasing number of people are making their fortunes with this kind of marketing.
Also, you can send the weekly newsletter to your existing and potential targets for giving them an updates on your company and to reinforce the name again and again. You can provide the link of the Facebook account in that along with this week's hot topic for the people to comment on and join.
The key to make money on Facebook is to attract as many numbers of people as you can on your page. Once you are successful building a great fan base around your page you can start making money from Facebook pages.
There are many other advanced ways to make money from Facebook, but the best way to make money from your Facebook pages is promoting affiliate offers related to your page topic. There are hundreds of affiliate products/services you may promote on Facebook pages. Register with Clickbank or other Affiliate networks to get related offers to promote.
Check out this example Facebook fan page build around website niche which can be used to promote affiliate offers once the fan club reaches to around 1000 members.
The launch of the new products can also be the part of your account page so that people who are interested in going for it can express their desire. In this way, Facebook can prove very helpful in making money by marketing their products and services as well.
****************
Recommended Facebook Money-Maker:


****************