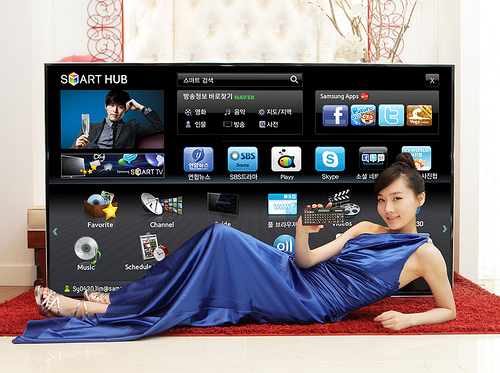 Samsung, Korean consumer electronics maker has come up with a great big thing called Samsung Smart 3D TV. Amazing connectivity is offered by the range of Samsung and this company has always been trying to push out of boundaries with out-of-the-box features.
The Samsung Smart TV enhances the viewing experience with impressive connectivity range and is known for conserving energy. There is Eco Light Sensor for measuring the light intensity and can alter the picture brightness.
Other than Samsung applications one can hunt for movies, TV shows and also surf the internet. At present there are around 300 applications and one can also gain access to media content from Hulu Plus, Blockbuster or NetFlix. The number of applications are likely to increase by the end of the year.
Samsung Smart TV is equipped with four HDMI ports and three USB 2.0 ports and one can use the ConnectShare Movie service to view movies and videos. There are two ports for the composite input, two ports for component input, one PC audio input, one PC input and one optical audio output. Thus, all the connectivity options are available.
Lets get into the nitty gritty of the model "Samsung UA55D7000 TV."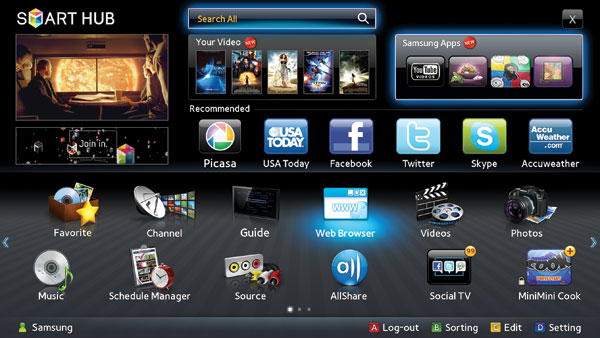 This 55 inch model is sleek with only 33 mm thick and weighs only 16 kg s and 18 kg s with stand. This Smart TV is packed with all the features and is certainly a complete package.
Pair of 3D glasses is available and can be synced to the TV with the help of Bluetooth and not the commonly used infrared. Blue-ray 3D and 3D broadcasts formats are also available.
It sports full HD resolution and HD digital TV tuner. With the USB socket enabled one can plug a hard disk and use it to record the TV programs.
The Smart Hub application has a lot of network features. With this user menu interface one can surf the internet and socialize in 3D environment. Just like smartphones one can install social networking sites like Facebook, Twitter and YouTube or Google Talk and other mail services.
Along with this wireless networking built-in and even Ethernet is enabled. It can also convert 2D videos into 3D. With AllShare one can wirelessly transfer the files from smartphones and other media like Samsung Galaxy Tab.
Also, various models of 3D eyewear are also available along with the basic model and even an advanced QWERTY remote control which has keyboard on one side and remote control buttons on the another side. An Android application can also be downloaded on the smartphone which can be used as a remote control.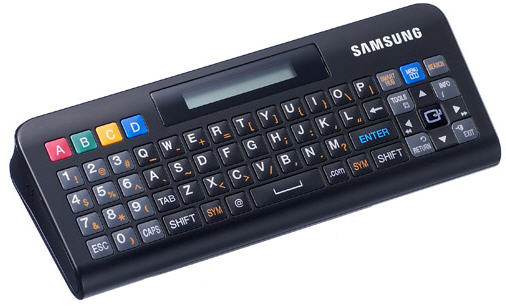 Everyone has been glued to Samsung TV and it has been a popular choice among many users for LCD TV. Their have been several noticeable improvements compared to the last year.
Everything operates smoothly without any glitches and no lagging behind key presses. Another nifty improvement is that information and menu screen wont just pop onto the screen rather they quickly fade in and out.
Rating:
Overall: 4.5/5
Features: 5/5
Value for Money: 4.5/5
Performance: 4.5/5
Ease of Use: 4.5/5
What we didn't like?
But one quibble is the lack of Bluetooth support which is totally uncool as it is one of the basics. Also, there is no built-in web cam.
Samsung Smart TV Price (Samsung UA55D7000 TV): $5499 – $5500
Samsung Smart TV Price in India
Samsung Smart TV is in the price range of Rs. 58,000 to Rs. 4,50,000