Galaxy Golden Android Flip:

Phone Launch in India: Samsung electronics the world leader in digital market launched "The Galaxy Golden Flip "in the Indian market aiming at making lives easier for the users. Giving the users the dual screen  touch and type smartphone experience. With stunning design and finish the phone is very efficient. It comes in gold colour. This device colouring is known as champagne.
The Price
The Galaxy Golden Flip phone is priced expensive at Rs 51,900.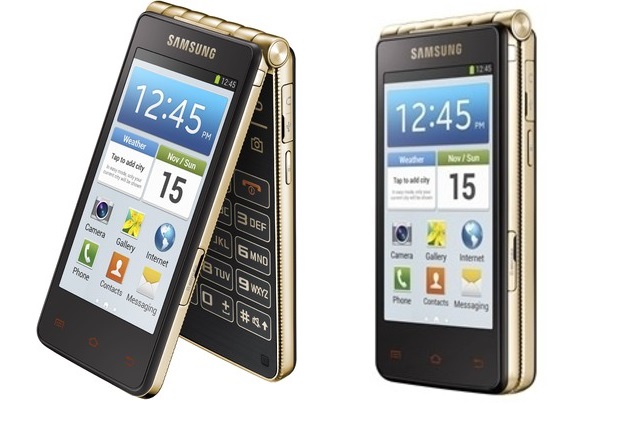 Specifications
Capacity of 1.5 GB RAM.
Based on Android 4.2 (Jelly Bean) operating system.
Coming with 3.7 inch super AMOLED Display inside and on the top outside.
It is powered by 1.7GHz Dual core snapdragon processor.
Sporting a 1.9 megapixel front camera and rear camera 8 megapixel with Led flash capturing classy and stunning pictures.
Connectivity comes with Bluetooth , GPS , WI-FI, 3G.
Including the Inbuilt Storage of 16GB.
This flip phone has an Expandable memory upto 64GB.
Packed with the Battery of 1820 mAh.
Resolution is of 480 x 800 pixel.
Weight of the phone is 179g.
Dimensions are about 118mm x 59.5mm x 15.8mm.
The  audio jack is 3.5mm.
Large 3×4 keypad for the easy usuablity.
Talktime is about 10-12 hrs.
Galaxy Golden Flip Features
This phone has a feature known as easy mode which has large fonts and icons enabling to search apps.
It has a receiver which is not seen which allows users to pick calls without flipping the phone.
It has FM radio.
In the most nosiest areas the phone provides high quality sound.
The phone features the pedometer.
There is gyro, magnetic, proximity sensors, accelometer & barometer.
The Galaxy Golden Flip Verdict
Amazing features , premium golden finish and stunning design. A perfect device for the lovers of flip phone. This spectacularly crafted Android smartphone with its functionality and elegance is surely a keeper.