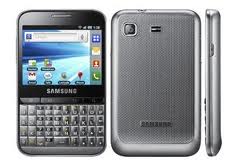 Samsung Galaxy Pro B7510 Android Mobile Phone Review, Specifications and Price:
Samsung is on a roll with compendium of new releases and creating buzz everywhere. The World's second largest mobile phone maker has announced the launch of Samsung Galaxy Pro B7510 which is the new business class phone in the market.
There are inbuilt games, easy connectivity via WIFI/GPRS with access to social networking websites like Facebook and Twitter. There is QWERTY keyboard and one can chat from SKYPE, MSN and YAHOO. It is available in black and white colors.
Social hub application lets you check all the messages in a glance with the integrated inbox along with integrated contact list and integrated calendar. It is equipped with ThinkFree Office application so that work documents can be created, opened and edited from the mobile itself.
The new Samsung Galaxy Pro comes with 2.8 inches TFT color screen LCD display with 256K colors, TouchWiz UI, display of 240*320 pixels of resolution operating on frequency band of GSM 850/900/1800/1900 MHz(2G) and HSDPA 900/2100(3G)
It features 3.15 megapixel camera with optical digital zoom, secondary camera for video calling, resolution of 2048*1536 pixels and internal memory is 512MB with 2GB inbox which is expandable up to 32GB. Other features include Google Talk, Google Mail, Google latitude, Maps, YouTube with Adobe Flash 10.1 support, Digital compass, proximity sensor, Accelerometer and A-GPS support.
Web browsing on the Samsung Galaxy Pro aint a good experience. There is no multi-touch offered by touchscreen so no pinch to zoom. Scrolling can also be a pain and one might not be able to view embedded flash content. Moreover, DIVX/XVID video format is not supported so you are left with software-based viewing of AVI files.
It weighs 103.4 grams with dimensions 108.66*66.7*10.7mm running on Android 2.2 Froyo and 800 MHz processor. The battery is up to 11 hours of talk time and up to 610 hours of stand-by time.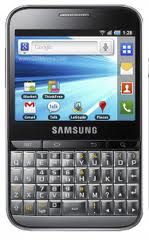 Samsung Galaxy Pro B7510 in India:
The new Samsung Galaxy Pro B7510 in India is priced at Rs. 12,000.
Samsung Galaxy Pro B7510 Review Summary:
The new Samsung Galaxy Pro will certainly have its niche market with the snazzy look of Blackberry on an Android phone. It is most apt for this who are interested in switching from Nokia E72 or C3 into an Android smartphone.
It is mainly for productivity and not for watching videos or playing games probably due to small screen with 256K color count. Those who want an Android phone with light web browsing, quick advanced messages and real time social media updates should go for this.