More and more tablets are rolling out in the market. Now Acer has scheduled the launch of its first two Iconia Tablet models, A500(Android 3.0 aka Honeycomb) and W500(Windows 7) on April 8 in Europe.
Both the tablets have a price tag of 449 pounds and come with a 10.1-inch(1280*800) LED-Backlit touchscreen. W500 Tablet uses AMD's Brazos solution and A500 Tablet uses Tegra 2 SoC (System-on-chip) from Nvidia.
Acer Iconia Tab W500 Review:
Acer Iconia Tab W500, Windows 7 tablet runs on 1.3 GHz C-50 APU(with Radeon HD 6250 graphics), 2GB DDR3 RAM, G-sensor, HDMI output, 32GB internal memory, SD card reader, 802.11 b/g/n WIFI, 32GB solid state drive, 3-cell battery and Windows 7 Home Premium.The 1.3 GHz processor speed offers productivity and handles multi tasking. Although it is not so powerful compared to the dual core Atom processor.
This Windows tablet comes with the performance and mobility that enables work from anywhere as well as social networking on the go. So it is a complete package with a great source of entertainment. There is a detachable keyboard that makes it more convenient.
The tablet weighs only 1 kg and when connected to the detachable keyboard the weight increase by 1.34 pounds. Battery is up to 5 hours 8 minutes and it also features multi-touch Acer Ring control interface. Acer Iconia Tab W500 has two Acer Crystal Eye 1.3 megapixel webcams. Both the cameras can be used for video conferencing.
The 3G version of W500 is priced around 529 pounds. There is also a WIFI-only enabled version of W500 which comes with keyboard dock that includes dual USB 2.0 connectors and an Ethernet port which is also priced around 529 pounds. The 3G+WIFI 500, including the keyboard dock is priced around 579 pounds. There are HD optimized graphics from ultra- low power NVIDIA GeForce GPU with Flash 10.2 support.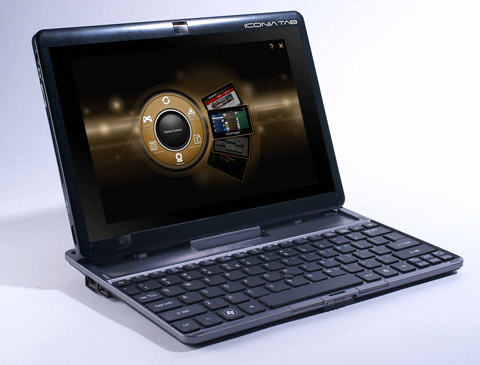 The new Acer Iconia Tab W500 is now available in India at Reliance Digital and eZone outlets. It is priced around Rs. 31,490.
Acer Iconia Tab A500 Review: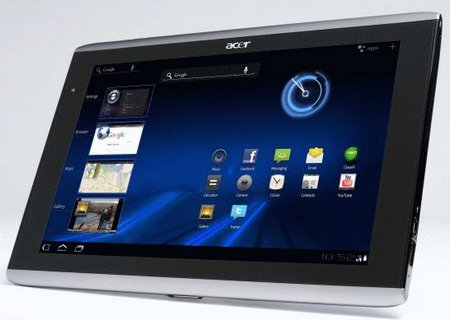 Acer Iconia Tab A500, an Android tablet runs on Android 3.0 Honeycomb. It comes with 1GB of RAM, 802.11 b/g/n WIFI, 32GB flash storage, full HD video playback, MPEG4 and XVIS codecs, Bluetooth, 5 megapixel camera, 2 megapixel front camera, 4G connectivity HDMI output for HD content playback on HD TV, 16GB internal memory, microSD card slot, 3260 mAh battery and two USB ports. It is thin and weighs only 13.3 m thin.
Moreover, the battery backup is up to 8 hours of gaming and all and 10 hours of browsing. It offers amazing gaming experience and you can run 3G games and HD arcade with 6-axis gyro-scope sensors and 10-point multi-touch. A lot of 3D games, magazines and evokes are pre-loaded.
This Android tablet is out in the market and is competing Motorola XOOM. As both are similar in terms of specifications. Both run on the same NVIDIA Tegra 2 dual-core processor at 1GHz, same size, same resolution camera. But XOOM has 32GB internal memory and that can be expanded to 32GB whereas A500 has 16 GB internal memory that can be expanded to 64GB.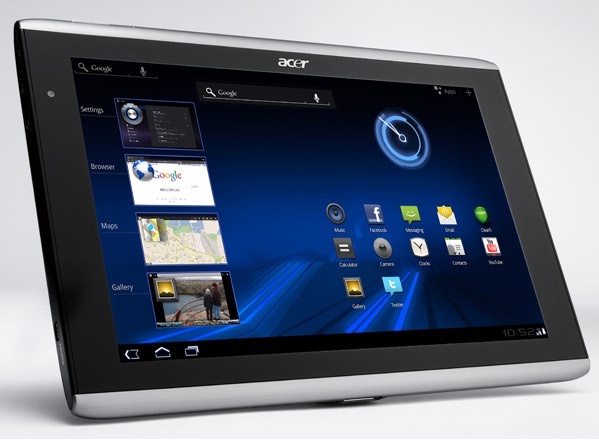 The new Acer Iconia Tab A500 is available in India and retails at Rs. 26,900. It is the first Honeycomb tablet officially launched in India and is little cheaper than iPad2, priced at Rs 27,990 for the 16GB WIFI enabled version. The 3G version will also be announced soon.