HTC Flyer is the first tablet by HTC running on Android OS as it is loaded with Android (Gingerbread), smartphone version.
HTC has tried to make the Flyer stand out from the crowd by giving unique features as it is comes with Android 2.3 Gingerbread, a smart phone operating system where the market is flooded with Android 3.0 honeycomb tablets.
The HTC Flyer sports a 1.5 Hz single-core processor, 7 inch touch screen (1024*600 pixel resolution) and pressure sensitive stylus. However, HTC plans to upgrade this Gingerbread tablet to Honeycomb.
This tablet comes with 5 megapixel rear camera, 1.3 megapixel camera, 3.5 mm headphone jack, 1 GB RAM, 32 GB internal memory and microSD card can be used giving 32 GB additional space. There is Bluetooth 3.0 along with A2DP stereo support that is compatible with headphones, wireless headsets and other accessories.
HTC Flyer is packed with compass, internals GPS antenna with navigation system, accelerometer and an ambient light sensor. Unfortunately one might niggle about the lack of HDMI output and DLNA support. It can be a huge disappointment.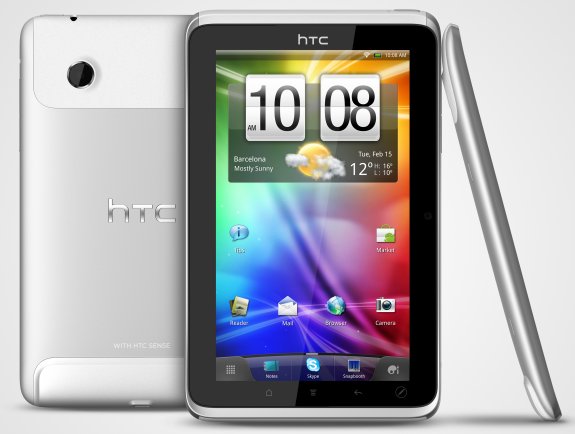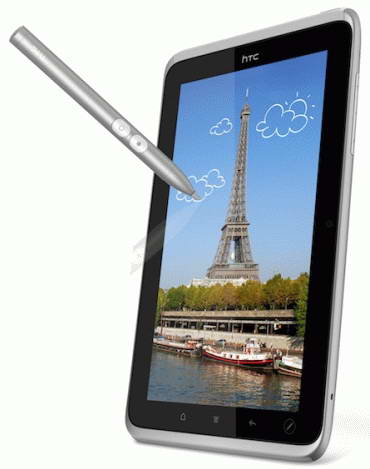 The battery life of this phone is outstanding. With 4000mAh battery the tablet can last for at least 7 hours if the usage is heavy. Otherwise, if moderately used it can last for nearly a week on a single charge. This is mostly due to no 3G module that drains battery life. This WIFI enabled model is pretty sufficient.
Some of the other outstanding features of HTC Flyer are
– HTC Sense 2.1: Great user friendly UI with 3D screen
– HTC Scribe: This is for taking notes, drawing pictures, signing contracts or even writing on webpages or photos.
– HTC Watch: This is for online streaming of movies and videos at a high speed.
User Rating: 3.5/5
What we like?
– Attractive User Interface and widgets
– Sleek aluminum body
– Nifty pen functionality
– Long lasting battery
What we don't like?
– Camera is not that good
– Sluggish at times
– Rear cover is fiddly/fragile
HTC Flyer Price in USA:
The 16 GB WIFI enabled HTC Flyer is priced at $499
HTC Flyer Tablet Price in India: Rs. 37499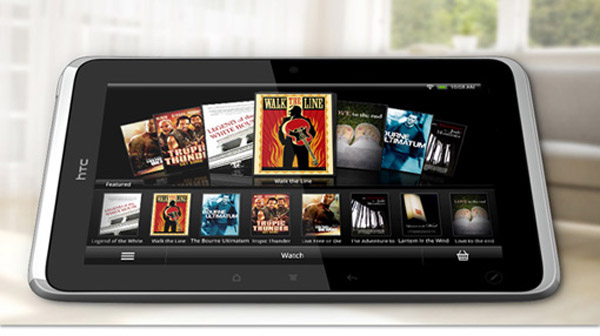 Review Summary:
HTC Flyer is a perfect combination of performance and power. It delivers an all day battery and a pleasing user experience especially with all the applications that work on Android phone also work on the HTC Flyer and look good. However many users might not be interested in a 7 inch tablet and go for the 10 inch form factor for enjoying games and movies.
Moreover, in the tablet crowded market, pressure sensitive stylus is not for everyone and might sound like a gimmick for the normal users who are not artists or graphics artists. It is fully featured and the interface is pleasant as long as stylus is not used. Without the stylus the HTC Flyer with 7 inch screen is exorbitantly priced.
If the stylus is not bought one can save $80. It is more powerful that WIFI only Galaxy tab but costs $150 more. The Motorola Xoom sports a bigger screen and faster processor compared to the Flyer along with 2 megapixel front camera where flyers had 1.3 megapixel front camera, and one has to shell out $100 more.